Chinese writer wins Hans Christian Anderson Award 2016
Updated: 2016-04-12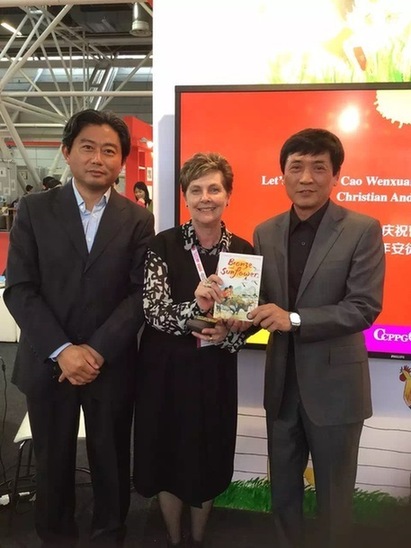 From left to right: President Zhang Shengyong from Phoenix Juvenile and Children's Publishing, Ms Caroline Muir from Walker Books (the UK publisher of Bronze and Sunflower), Cao Wenxuan
Chinese children's fiction writer Cao Wenxuan won the Hans Christian Anderson Award 2016 at the Bologna Children's Book Fair in Italy on April 4.
Cao became the first Chinese author to ever win the prize, which is awarded by the International Board on Books for Young People and is considered as the highest international recognition in the field of children's literature.
As early as in the 1980s, Phoenix Juvenile and Children's Publishing began cooperating with Cao, publishing several of his book series, which became bestsellers. His works have also won awards at the National Book Awards and Chinese Government Awards for Publications, with copyrights exported to Europe, America and other Asian countries.
Cao's latest full-length novel Glass Eye Bead will be soon published by Phoenix Juvenile and Children's Publishing.
Cao Wenxuan was born in January 1954 in the rural area of Yancheng, Jiangsu province, where he lived until he was 20. He went to study at Peking University and is now a professor and Ph.D. supervisor of Chinese literature there. He is a member of the Chinese Writers Association, and the deputy president of Beijing Writers Association. His main works include House with Thatched Roof, Bronze and Sunflower, Honor of Life, Red Tile and Black Tile, Root Bird, and The Boy of Ximi. His academic works include A Study of China's Literature Trends in the 1980s, The Second World – A Philosophical Interpretation of Literature and Art, Research on Chinese Literature Tendencies in the 1990s, and A Novel Door. Many of his novels and short stories have been translated into English, French, Japanese, Korean, and other languages. His books have won more than 40 national and international awards.
Non-Fiction

Symbols of Jiangsu (Pocket Edition) selects the most representative and symbolic Jiangsu special cultural resources.

Humanities & Social Science; Non-Fiction

Symbols of China examines those things that make China Chinese.