PPM pens copyright deals at 2016 London Book Fair
Updated: 2016-04-26

Phoenix Publishing and Media Inc (PPM) took part in the 2016 London Book Fair (LBF) from April 12 to 14, where the Chinese publisher achieved rich results in copyright trading and book promotion activities.
The London Book Fair, founded in 1971, is the second largest book trading expo in the world after the Frankfurt Book Fair, and is regarded as the most important international fair for copyright trading. More than 25,000 publishers from 124 countries and regions across the world attended this year's event.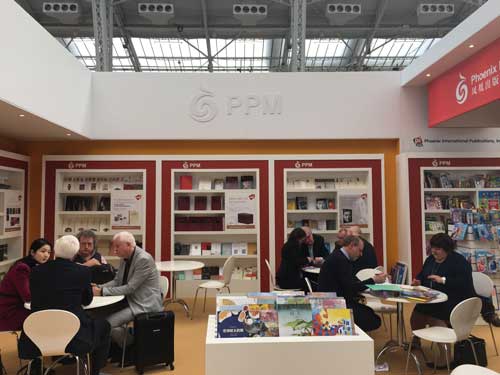 PPM has business talks with foreign publishers.  
PPM's exhibition booth, covering an area of 81 square meters, was adjacent to those of international publishing giants such as Hachette Livre and Macmillan Publishers.
During the three-day event, the group displayed more than 300 books and had business talks with 50 publishing houses, contributing to the import of 93 copyrights and the export of 55.