PPM pens copyright deals at 2016 London Book Fair
Updated: 2016-04-26

Phoenix International Publishing (UK) participated in the event for the first time, whose children's books became highlights of the booth.
The booth also exhibited books by Cao Wenxuan, the latest winner of the distinguished Hans Christian Anderson Award. The books, published by Phoenix Juvenile and Children's Publishing, attracted many publishers from various countries.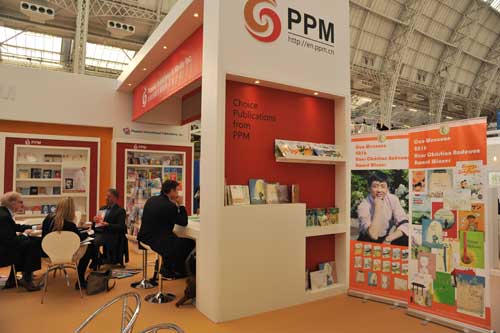 PPM displays books by Cao Wenxuan, the latest winner of the Hans Christian Anderson Award at the book fair.
The PPM delegation also took part in the Fair's Quantum: Publishing & So Much More Conference held by the event organizer, where senior publishers shared their views about the industry.
Furthermore, the group also launched its range of high-quality culture books and opened a Chinese language experience center in London during the fair.
After the book fair, the group gave the second set of Symbols of Jiangsu (Pocket Edition) to the Confucius Institute at the University of Manchester as well as the Chinese edition of History of Human Civilization to the British Library as gifts.
Jacks Thomas, director of LBF, Ian Denison, chief of UNESCO Publishing, Xiang Xiaowei, minister counselor for culture at the Chinese embassy in London and other distinguished Chinese and international guests were invited to attend the promotion activities in London.
Non-Fiction

Symbols of Jiangsu (Pocket Edition) selects the most representative and symbolic Jiangsu special cultural resources.

Humanities & Social Science; Non-Fiction

Symbols of China examines those things that make China Chinese.