'Symbols of Jiangsu' make debut at London Book Fair
Updated: 2016-04-29

The Symbols of Jiangsu (Pocket Edition) launched its second collection at the London Book Fair in the UK on April 12.
The second collection, with the Chinese edition co-published by the publishing houses under the Phoenix Publishing and Media Inc (PPM) and in English by Xanadu Publishing, shows readers 10 cultural symbols of Jiangsu including the Fleeting-Cloud Library, Nanjing Yuhua Pebble, Dafeng David's Deer, Xuzhou Stone Relief, Jiangnan Sizhu, Yangzhou Lacquer, Taizhou School, Yundu Peach-stone Carving, Xijin Ferry, and The Presidential Palace.
The second collection has an updated design, making it different from the first collection launched in 2012.
The Chinese edition, with its cover and format designed by Phoenix Fine Arts Publishing, displays the cultural essence and charm of Jiangsu. The cover of the English edition features a combination of traditional Chinese culture and modern art, and follows international publication trends.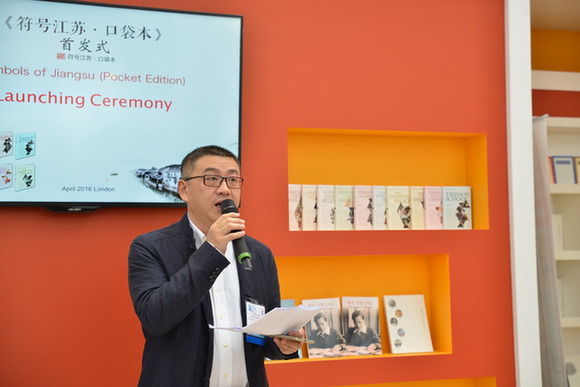 Yang Liqun, deputy director at the Information Office of Jiangsu Provincial People's Government, gives a speech at the ceremony.
Non-Fiction

Symbols of Jiangsu (Pocket Edition) selects the most representative and symbolic Jiangsu special cultural resources.

Humanities & Social Science; Non-Fiction

Symbols of China examines those things that make China Chinese.