PPM delegation visits US partners and subsidiary
Updated: 2016-05-23

A delegation headed by Phoenix Publishing and Media Group's chairman Mr. Zhang Jiankang and Phoenix Publishing and Media Inc's executive vice president Mr. Sun Zhenfu, took a business trip to North America from May 9 to 17, where they visited Pace University in New York, PPM's US subsidiary and the Book Exposition of America held in Chicago.
At Pace University, the delegation met with President Stephen J. Friedman, Dean Nira Herrmann, Professor Sherman Raskin, Professor Xiaochuan Lian and Dr. Joseph Lee etc. The delegation learned about the general situation of the university from President Stephen J. Friedman and took part in a lecture on the US publishing industry given by Professor Lian. The delegation and the university officials exchanged ideas on issues of the reciprocal visits, publishing industry development and publisher talents training.
The Confucius Institute at the university is a cooperation project between both sides. The delegation learned about the development of the Confucius Institute in the past five years as well as the plans and objectives for its future.
During the trip, the delegation also visited Phoenix International Publication Inc. (PIP), one of North America's leading publishers of children's interactive audio books. Acquired by PPM in 2014, it is the largest transnational merger by a Chinese publishing group.
The delegation visited PIP's headquarters in Chicago and its branches in New York and Mexico. After inspecting the business and listening to the reports of the company's development, Mr. Zhang affirmed the achievements made in 2015 and encouraged them to expand business in authorization, develop new products and excel in marketing and risk control.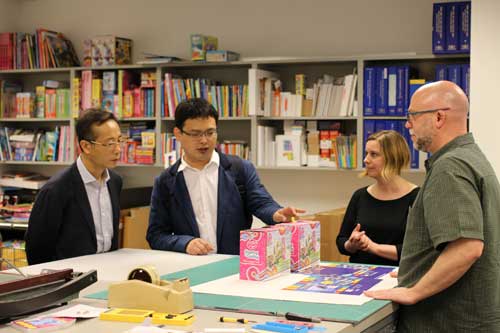 Mr. Zhang Jiankang (L) inspects PIP.
The delegation also met with licensees and distributors from Walt Disney Co. and Toys R Us Inc.in PIP's exhibition hall at the Book Exposition of America, and talked about deepening cooperation with the guests.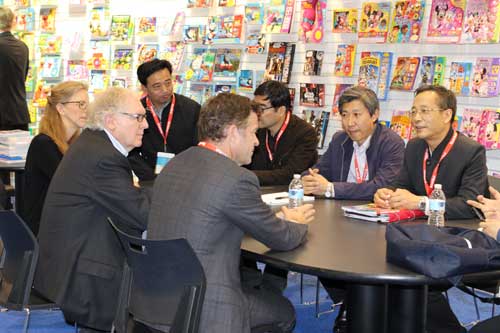 The PPM delegation talks about deepening cooperation with the US guests at the Book Exposition of American.
Mr. Zhang paid special visits to Chinese diplomats in New York, Chicago and Mexico and briefed them about PPM's development and acquisitions in the US, in the hope of obtaining more support from overseas Chinese consulates.
Non-Fiction

Symbols of Jiangsu (Pocket Edition) selects the most representative and symbolic Jiangsu special cultural resources.

Humanities & Social Science; Non-Fiction

Symbols of China examines those things that make China Chinese.