Irish delegation visits Phoenix Group
Updated: 2016-06-01

A group of guests from Cork County in Ireland visited Phoenix Publishing and Media Group (PPMG) in Nanjing on May 25.
The delegation headed by Declan Daly, divisional manager at the Cork County Council, had a meeting with the group's managers, which was the fourth meeting between both sides in the past two years.
Wang Yixuan, vice-chairman of PPMG, briefed the guests about the group's latest development. As a large cultural enterprise, PPMG has paid great attention to cultural exchange with Ireland, said Wang, adding that communication should be deepened to promote further cooperation.
Daly looked back at the achievements of the previous three meetings and agreed with Wang's suggestion on enhancing cooperation.
During the meeting, both sides also discussed issues on hosting a Great Wall photo exhibition in Ireland, and cooperation on academic exchange and vocational education. The Irish guests also expressed their desire to cooperate in liquor making, joint-school operation and overseas investment.
The participants of the meeting also included Therese Healy, Irish Consul General in Shanghai; Brendan Murphy, president of the Cork Institute of Technology; Barrie O'Connell, president of the Cork Chamber; and directors at PPMG's human resources and investment departments.
Cork County is Ireland's largest county and is located on the southeast coast. As one of the most developed areas in the country, Cork enjoys a leading position in technology, education, manufacturing and tourism industries. It is also home to European headquarters of many multinational corporations such as Apple, Dell and Huawei.
The Cork County Council is an important cooperative partner of PPMG in Europe.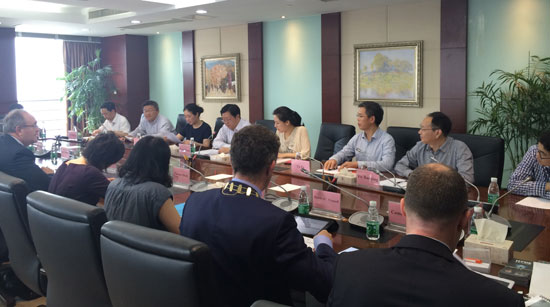 A group of guests from Cork County in Ireland visit Phoenix Publishing and Media Group (PPMG) in Nanjing on May 25.
Non-Fiction

Symbols of Jiangsu (Pocket Edition) selects the most representative and symbolic Jiangsu special cultural resources.

Humanities & Social Science; Non-Fiction

Symbols of China examines those things that make China Chinese.