Polish delegation visits Phoenix Media
Updated: 2016-06-17

A group of guests from the Malopolska region of Poland visited the headquarters of Phoenix Publishing and Media Inc (PPM) in Nanjing on June 13.
The delegation, headed by Wojciech Kozak, deputy-marshal and councilor from Malopolska, took part in the exchange trip in Jiangsu province from June 9 to 16.
Wu Xiaoping, president of PPM, welcomed the Polish delegation. As a state-owned key cultural enterprise, PPM has actively cooperated with Malopolska in recent times, especially in publishing and cultural exchange, said Wu, who also expressed the hope that the current cooperation will continue to develop.
Kozak agreed with Wu's suggestion on deepening cooperation and spoke of Malopolska's profound cultural background and favorable environment for cultural industry development.
According to Kozak, the Polish capital of Krakow is currently host ofthe largest book fair in the Central and Eastern Europe and pledged that the local government will take active moves to encourage Jiangsu enterprises to invest and start business in the region.
PPM's vice-president Liu Feng briefed the guests about the development and international strategy of the company.
The delegation also included Andrzej Pieczonka, the counselor in charge of trade and investment at the Polish Consulate General in Shanghai, officials from the Malopolska's economic development department as well as university professors.
The Polish region of Malopolska is the first region in the Central and Eastern Europe to establish friendly ties with Jiangsu province.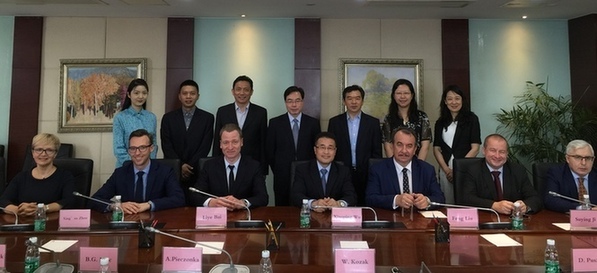 The Polish delegation and PPM directors pose for a group photo.
Non-Fiction

Symbols of Jiangsu (Pocket Edition) selects the most representative and symbolic Jiangsu special cultural resources.

Humanities & Social Science; Non-Fiction

Symbols of China examines those things that make China Chinese.