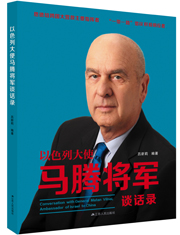 Conversation with General Matan Vilnai, Ambassador of Israel to China
The book is the first autobiography of a high-ranking Israeli official published in China. It describes the legendary military and political experiences of Matan Vilnai, Israel's influential retired Major General and former Ambassador to China.
Overview:
In a secluded woodland castle an old General prepares to receive a rare visitor, a man who was once his closest friend but who he has not seen in forty-one years. Over the ensuing hours host and guest will fight a duel of words and silences, accusations and evasions. They will exhume the memory of their friendship and that of the General's beautiful, long-dead wife. And they will return to the time the three of them last sat together following a hunt in the nearby forest--a hunt in which no game was taken but during which something was lost forever. Embers is a classic of modern European literature, a work whose poignant evocation of the past also seems like a prophetic glimpse into the moral abyss of the present.
Author: YU Zemin, trans. from Hungarian by Sandor Marai 
Publisher: Yilin Press
Price: ¥35
2015
ISBN: 9787544749527
Hardcover, 247 pages