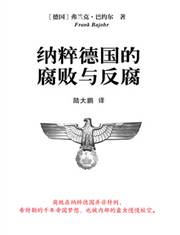 Corruption and Anti-corruption of Nazi Germany
A comprehensive disclosure of corruption and anti-corruption of Nazi Germany, filling the blank in Nazi research and reveals the cause of corruption under totalitarian rule.
Overview:
Richard Mabey, Great Britain's "greatest living nature writer" (London Times), has written a stirring and passionate defense for nature's most unloved plants.  Weeds is a fascinating, eye-opening, and vastly entertaining appreciation of the natural world's unappreciated wildflowers that will appeal to fans of David Attenborough, Robert Sullivan's Rats, Amy Stewart's Wicked Plants, and to armchair gardeners, horticulturists, green-thumbs, all those who stop to smell the flowers.
Author: CHEN Xi, trans. from English by Richard Mabey
Publisher: Yilin Press
Price: ¥49.8
2016
ISBN: 9787544729352
Hardcover, 368 pages