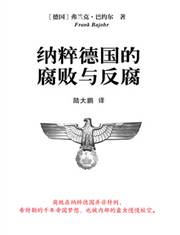 Corruption and Anti-corruption of Nazi Germany
2015A comprehensive disclosure of corruption and anti-corruption of Nazi Germany, filling the blank in Nazi research and reveals the cause of corruption under totalitarian rule.
Overview:
A moral call for Nazi is to eradicate corruption of the Weimar Republic, but the Nazis themselves haven't establish clean politics in Germany either. Corruption of the Third Reich was systematical and existed from top to bottom. The Nazi regime takes corruption as a mean to pursue stable system, so they acquiesced in such behavior and only a small amount of corruption was punished with the purpose of political struggles. Frank Barjohr reveals the Nazi Germany's self destruction in this book through a large amount of historical information such as trial records, news reports and party reports.
Author: LU Dapeng, trans. from English by Frank Bajohr
Publisher: Yilin Press
Price: ¥38
2015
ISBN: 9787544754750
Paperback, 216 pages