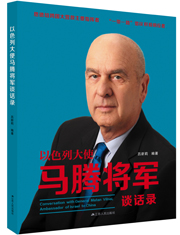 Conversation with General Matan Vilnai, Ambassador of Israel to China
The book is the first autobiography of a high-ranking Israeli official published in China. It describes the legendary military and political experiences of Matan Vilnai, Israel's influential retired Major General and former Ambassador to China.
Overview:
On the transformation and upgrading of Chinese industry, this book explores the theoretic implication of "2nd Economic Globalization" and the opportunity it brings to Chinese industrial upgrading. It suggest that Chia should seize the opportunity to open up and make structural adjustment and institutional transformation, relying on innovation to achieve high-end of the global value chain.
Author: LIU Zhibiao
Publisher: Yilin Press
Price: ¥45
2016
ISBN:  9787544759434
Paperback, 321 pages