Phoenix Media attends 23rd Beijing International Book Fair
Updated: 2016-08-30

Phoenix Publishing and Media Inc (PPM) along with its 17 subsidiaries and more than 1,300 publishing products took part in the 23rd Beijing International Book Fair (BIBF) from Aug 24 to 28.
With the aim of going global, PPM held a string of business talks for copyright trading with international publishing houses and copyright agencies including Cengage Learning, Hachette Livre, Cambridge University Press and Harvard University Press. It also reached cooperation intention on bilateral book trading with Sterling Publishing, a wholly-owned subsidiary of Barnes & Noble, the largest retail bookseller in the United States.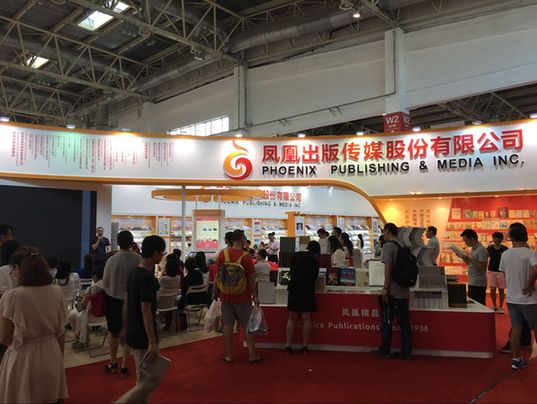 The exhibition of PPM at Beijing International Book Fair
PPM chairman Zhang Jiankang delivered a keynote speech on PPM's strategy and practice in the digital age at the 2016 Global Top 50 Publishers Summit during the fair.
The company also held six promotional events, including a signing ceremony for the Turkish Translation of Contemporary Chinese Literature, a book design seminar and two book launches.
All eight publishing houses under the umbrella of PPM were listed among the Most Influential Chinese Publishing Houses at Overseas Libraries released by the BIBF organizing committee during the fair, with Jiangsu People's Publishing and Yilin Press entering the top 100 at 55 and 62, respectively.
The fair attracted much attention from state and Party leaders. Senior Communist Party of China (CPC) leader Liu Yunshan, and publicity chief of the Communist Party of China, Liu Qibao, inspected the venues and listened to PPM chairman Zhang Jiankang's company report.
Regarded as one of the four biggest book fairs in the world, along with the Frankfurt Book Fair, the London Book Fair and Book Expo America, BIBF has become an important platform for cultural exchange with increasing global influence. An alliance of 16 countries in Central and Eastern Europe acted as co-countries of honor for BIBF 2016.
Non-Fiction

Symbols of Jiangsu (Pocket Edition) selects the most representative and symbolic Jiangsu special cultural resources.

Humanities & Social Science; Non-Fiction

Symbols of China examines those things that make China Chinese.