Yilin Press sells Turkish copyright of Chinese literature works
Updated: 2016-09-05

Yilin Press, a subsidiary of Phoenix Publishing and Media Inc (PPM), sealed a deal with a Turkish publisher to export the copyright for eight works of contemporary Chinese literature at the 23rd Beijing International Book Fair (BIBF) on Aug 25.
The deal with Canut International, included exporting the Turkish copyright of eight literature works written by Yu Hua, Ye Zhaoyan, Su Tong and Lu Min.
With the aim of going global and pushing forward the national Belt and Road Initiative, Yilin Press has tapped the publishing markets in the countries such as Egypt, Serbia and Turkey.
At the signing ceremony, Zhang Jiankang, chairman of Phoenix Publishing and Media Group, PPM's holding company, said the copyright export would not only help to promote Chinese literature, but also enhance the international cultural exchange of the company.
Wu Shangzhi, vice-minister of the State Administration of Press, Publication, Radio, Film and Television also attended the ceremony, and praised the group's efforts in copyright trading.
Gu Aibin, president of Yilin, and Cem Kizilcec, president of Canut International signed the agreement.
Canut International, established in 2003, is a publishing house for Turkish, German and English books. With an international and translation works focus, it has pioneered a distinctive approach to the publishing of innovative academic research and reference works from China, Vietnam and Cuba. It once published the Turkish edition of How Far is Forever, a novel written by Chinese writer Tie Ning.
Canut's president, Cem Kizilcec, has a great interest in Chinese culture. In 2014, he won the Special Book Award of China for foreign authors, translators and publishers who make significant contributions to China's literary and cultural exchanges with other countries.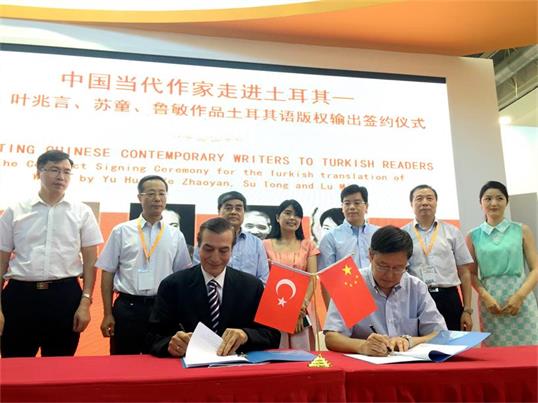 Gu Aibin (R), president of Yilin, and Cem Kizilcec, president of Canut International sign the agreement.
Non-Fiction

Symbols of Jiangsu (Pocket Edition) selects the most representative and symbolic Jiangsu special cultural resources.

Humanities & Social Science; Non-Fiction

Symbols of China examines those things that make China Chinese.