Phoenix Media promotes Cao Wenxuan's latest novel at BIBF
Updated: 2016-09-05

Phoenix Juvenile and Children's Publishing held a workshop to promote the works of Chinese writer Cao Wenxuan, the winner of the 2016 Hans Christian Andersen Award, at the 23rd Beijing International Book Fair (BIBF) on Aug 25.
The workshop named "Chinese Stories, Global Themes – Hometowns and Distant Places in Hans Christian Andersen Award Winner Cao Wenxuan's Works" showcased Cao's latest novel Glass Eye Beads. Cao took part in the event and shared his experience in writing the book.
A group of scholars and experts in publishing and literature were invited to the event and shared their opinions on Cao's work from the perspectives of cultural transmission, original publishing and fantasy literature.
The publishing house also held a signing ceremony with a Vietnam publisher to export the Vietnamese copyright of Glass Eye Beads. The book has sold its copyright to countries including Germany, New Zealand, Australia and Spain.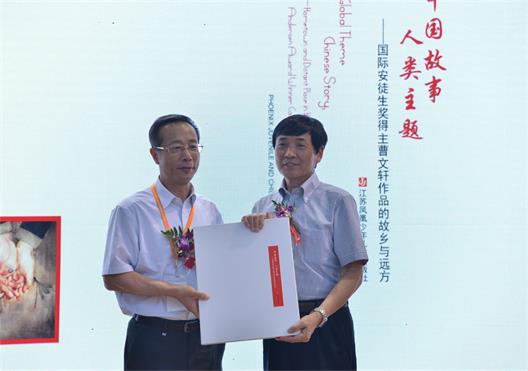 Cao Wenxuan (R) attends the workshop.  
Non-Fiction

Symbols of Jiangsu (Pocket Edition) selects the most representative and symbolic Jiangsu special cultural resources.

Humanities & Social Science; Non-Fiction

Symbols of China examines those things that make China Chinese.