House of Phoenix opens in London
Updated: 2016-09-22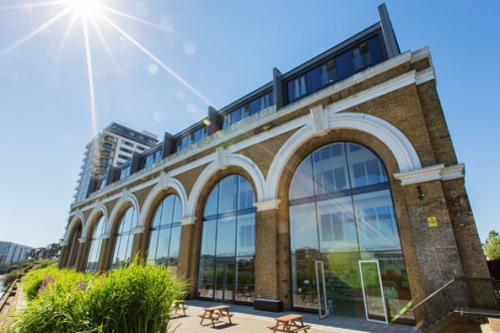 House of Phoenix in London, a cultural complex launched by China's Phoenix Publishing and Media Group
The House of Phoenix in London, a cultural complex launched by China's Phoenix Publishing and Media Group (PPMG), started operation on Sept 12.
Located in Greenwich, it is the largest cultural complex of its kind in the United Kingdom, covering 2,500 square meters.
It is a multifunctional facility integrating reading, culture, art and design, and it consists of a publishing house, bookshop, art exhibition hall, offices, digital printing room, and a multipurpose hall.
The three-story Italian-style building has a history of 160 years. The renovation of the building into a cultural complex shows PPMG's determination to promote Sino-UK cultural exchanges and cooperation and to support creative industries.
More than 200 Chinese and British celebrities attended the opening ceremony. Zhang Yangwu, Minister Counselor of Chinese Embassy in the UK, said the House of Phoenix will serve as a platform for Chinese cultural industry to go global and give British people an opportunity to find out more about Chinese history and culture.
Sue Bishop, Director of Creative Economy, Tech and Construction at UK Department for International Trade said that China and UK need to enhance mutual cultural understanding, base on the two countries' close political and economic ties, and the House of Phoenix offers British people such a good opportunity to have a close look at Chinese culture.
Zhang Jiankang, chairman of PPMG, stated that the company has been working on increasing global exposure of Chinese culture and believed that the House of Phoenix will be an ideal venue for Chinese exhibits and a better place for Chinese enterprises to conduct exchange with their British counterparts.
Other attendees such as Yang Zhichun, deputy head of Jiangsu Provincial Publicity Department, Penny Channer, deputy cabinet member for Broadband & Enterprise, and Craig Harrison, head of FDI Operations at London & Partners, congratulated PPMG on the opening of the House of Phoenix, and spoke highly of the company's contribution to Sino-UK cultural exchanges.
Non-Fiction

Symbols of Jiangsu (Pocket Edition) selects the most representative and symbolic Jiangsu special cultural resources.

Humanities & Social Science; Non-Fiction

Symbols of China examines those things that make China Chinese.