Nanjing launches scholar's Shakespeare center
Updated: 2016-12-01

More than 400 years have passed since the death of William Shakespeare, but the playwright's legacy and influence continues to touch all corners of the globe.
On Nov 25, a Shakespeare center was inaugurated in East China's city of Nanjing, proof that the bard's plays have a poignancy that transcends language and culture.
The center has been jointly established by Phoenix Publishing and Media Group (PPMG), University of Birmingham (UK), and Nanjing University. The hope is to promote Shakespeare's masterpieces to Chinese scholars and readers.
The ceremony was attended by leading figures from the three institutions involved and included; Michael Dobson, the director of University of Birmingham's Shakespeare Institute, She Jiangtao, PPMG's vice-president, Gu Aibin, editor-in-chief of PPMG's subsidiary Yilin Press, Zhu Qingbao, deputy Party chief of Nanjing University, and Zhou Xian, dean at the Institute for Advanced Studies of Humanities and Social Sciences of Nanjing University.
The three parties expressed the desire that the center will become an influential platform in China for researching Shakespeare and publishing his works.
Zhu stressed the university's long tradition in Shakespearean studies. He believes the center can act help contribute to cultural sharing and academic study.
Dobson, who will serve as a director at the center, praised China's developing interest in studying Shakespeare and vowed to enhance cooperation between Shakespeare Institute in Stratford-upon-Avon and Chinese organizations.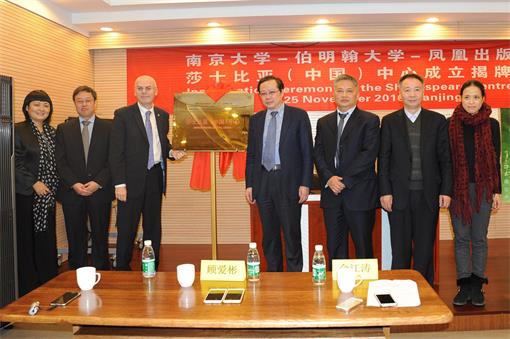 Leading figures from PPMG, University of Birmingham and Nanjing University take part in the inauguration of the Shakespeare Center in Nanjing, Jiangsu province, on Nov 25.
Non-Fiction

Symbols of Jiangsu (Pocket Edition) selects the most representative and symbolic Jiangsu special cultural resources.

Humanities & Social Science; Non-Fiction

Symbols of China examines those things that make China Chinese.