Great Wall-themed documentary series debuts at Romanian book fair
Updated: 2016-12-16

A historical and cultural documentary series titled Great Wall: Story of China was launched at Romania's Gaudeamus International Book and Education Fair on Nov 19.
The series, jointly made by the Phoenix Publishing and Media Group (PPMG), China Central Newsreel and Documentary Film Group, and Beijing Keying Media Co, consists of 12 episodes. It uses the latest aerial photography technology and 3-D animation production techniques to recreate scenes from history and introduce the birth, rise and decline of the Great Wall.
It was first aired on four TV channels including CCTV Documentary Channel and online video platform iQiyi on Oct 19, 2015, attracting an audience of 180 million people.
The production won the Best TV Documentary of the Golden Angel Awards at the 2016 Chinese American Film Festival, which was held in Hollywood, the US, on Nov 2. It also won the Excellent Home-made Documentary Series award judged by the State Administration of Press, Publication, Radio, Film and Television, and got approval to be aired in Malaysia.
Other Great Wall-themed exhibits displayed at the Gaudeamus fair included the newly-published book series Chronicles of the Great Wall of China and a book of photos recording the history of Great Wall called Chasing after the Ghosts of the Great Wall.
The Chronicles of the Great Wall of China is composed of 10 volumes, published successively in August. It comprehensively records the history and culture of the Great Wall, its architecture and relics, as well as the latest research findings on the subject, providing a solid foundation for academics studying the wall.
At the fair, Jiang Ziping, deputy head of Jiangsu People's Publishing House, spoke on behalf of PPMG and introduced PPMG's efforts to increase the global profile of the Great Wall, including making the documentary series and holding Great Wall-themed photo exhibitions in the UK, Canada, Chile and other countries.
Jiang also mentioned that Phoenix Science Press, a subsidiary of PPMG, established a Great Wall publishing center, which gathered more than 200 domestic experts and scholars and successively published a series of Chinese, English and French versions of Great Wall-themed books.
Jiangsu People's Publishing House plans to publish a new edition of its book Ancient City Walls in China, which was selected as a national classical publishing project by the Chinese government in recognition of the work's importance, in January 2017. The book has been translated into five languages: English, German, French, Japanese and Korean.
The event was reported by press agencies including Xinhua, China Daily and European Chinese News. News portals iFeng.com and jschina.com.cn reproduced relevant reports.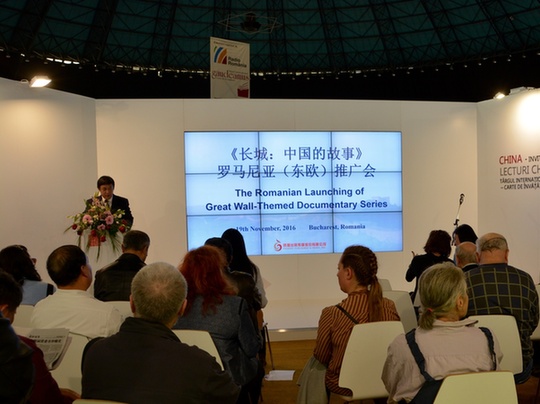 Jiang Ziping, deputy head of Jiangsu People's Publishing House, gave a speech on behalf of PPMG.
Non-Fiction

Symbols of Jiangsu (Pocket Edition) selects the most representative and symbolic Jiangsu special cultural resources.

Humanities & Social Science; Non-Fiction

Symbols of China examines those things that make China Chinese.