Buzhi Bookstore explores community business model
Updated: 2017-02-23

Phoenix Publishing and Media Inc (PPM), China's leading publishing group and bookstore chain, is exploring a new community-focused business model by teaming up with real estate developer Landsea Holdings to launch a new brand of bookstores called Buzhi Bookstore, which will focus on opening smaller outlets in residential communities, university campuses and office buildings.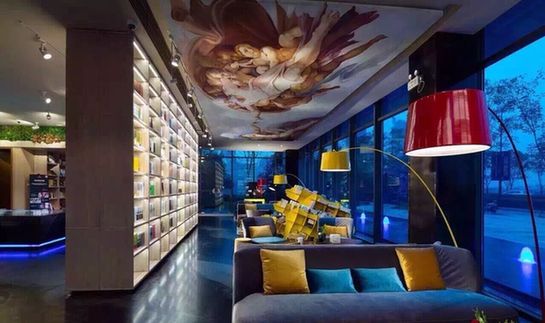 Phoenix Medie's first Buzhi Bookstore in Nanjing.
Buzhi Bookstore recently opened its fourth branch in the sales office of a new residential development in Wuxi, Jiangsu province in November 2016, after the successful launch of stores in nearby Nanjing and Suzhou, as well as the capital of Sichuan province, Chengdu.
As the store's name "Buzhi", a pun on the Chinese words for "no paper" and "not only", suggests, visitors to the site can expect more than just a bookstore. The store is not only a place for reading, but also provides drinks and creative products, and spaces for hosting cultural exhibitions, reading salons and writer meetings, and book launches. The store operates normal opening hours Sunday to Thursday, but is open 24 hours on Friday and Saturday.
Though named "no paper", the store makes full use of paper in its decor, with paper-made bookshelves, display stands, chairs, lampshades and various creative gadgets. This décor is designed to evoke an elegant and environmentally-friendly lifestyle that will appeal to the future residents of the upscale residential complex.
The first store opened, in Nanjing, the city where PPM is headquartered, in October 2015, has a total area of 700 square meters, while the other three stores opened in 2016 in Chengdu, Suzhou and Wuxi each have a total area exceeding 1,000 sq m. All four stores are the first bookstores in their respective cities to open 24 hours on Friday and Saturday, offering a fashionable, creative and green reading space to its customers.
As a large cultural enterprise, PPM takes its responsibility for promoting books and reading in society very seriously. The company's mission is to make reading a fashionable lifestyle, especially with reading increasingly becoming more fragmented and internet-based.
Buzhi Bookstore looks to fulfill this mission by combining reading culture with living culture. With the development of PPM's small and micro bookstores, Buzhi will promote a green and cultural lifestyle throughout Jiangsu and the country.
Non-Fiction

Symbols of Jiangsu (Pocket Edition) selects the most representative and symbolic Jiangsu special cultural resources.

Humanities & Social Science; Non-Fiction

Symbols of China examines those things that make China Chinese.