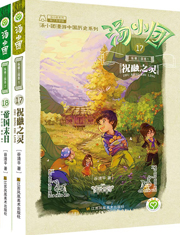 Tang Xiaotuan's Adventure in the Three Kingdoms
Since the Tang Xiaotuan book series was launched two years ago, the stories about the brave young time travelers have become very popular among young readers.
Overview:
The only book one needs to change from tea lover to tea master. With more than 600 HD images, the work shows readers how to buy, craft, and consume China's most famous beverage. Readers will learn how to properly inspect tea leaves, what to look for when visiting tea shops, and which flavors to seek out when sipping different teas. In short, the book is the perfect companion for tea aficionados.
Wang Jianrong is the Director of China National Tea Museum and Executive Director of China International Tea Culture Research Association. Wang is a leading expert on the subject of tea and is devoted to the study, research, and enjoyment of tea. In 2013, Wang was the recipient of the LUYU award, a prize granted for outstanding contributions in the realm of tea.
Author: Wang Jianrong
Publisher: Phoenix Science Press
Price: ¥48.00
June 2015
ISBN 978-7-5537-4284-7
Paperback 320 pp
Coyright manager: denghy@ppm.cn