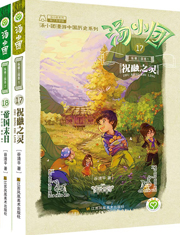 Tang Xiaotuan's Adventure in the Three Kingdoms
Since the Tang Xiaotuan book series was launched two years ago, the stories about the brave young time travelers have become very popular among young readers.
Overview:
The work traces the origins of the 24 solar terms through unique stories that delve into intriguing historical detail and unveil the origins of agriculture in China. The book offers readers an insight into China's early farming cultures and civilizations. Through the designs of award-winning artist Zhu Yinchun, The 24 Solar Terms artfully depicts landscapes and characters with the use of traditional Chinese folk art.
Author: Shen Fuyu
Publisher: Phoenix Fine Arts Publishing, Ltd
Price: ¥42.00
June 2015
ISBN 9787534476105
Paperback 170 pp
Coyright manager: Susan Shi, susanshe@vip.sina.com