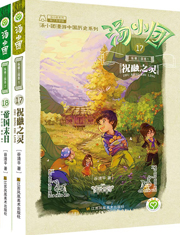 Tang Xiaotuan's Adventure in the Three Kingdoms
Since the Tang Xiaotuan book series was launched two years ago, the stories about the brave young time travelers have become very popular among young readers.
Overview:
The Sunflower Detachment traces the story of Moli, a young autistic girl, and her relationship with friends, teachers and students. With a fresh and lively voice, the novel follows Moli's own internal questioning and journeys through her moments of confusion and self-understanding. The book explores teenage psychology and makes readers feel love.
Winner of The Laurel Prize of Children's Books in 2016, The Sunflower Detachment was selected as a Monthly Valued Book in China and was also recognized as a 2016 Excellent Children's Literature National Publishing Project.
About the Author:
Shuashua is a member of Jiangsu Writer's Association and a lead writer for Nanjing Literature League. She has focused on works exploring teenage psychology and popular science for many years. Her works have been exported to Singapore and Malaysia.
Author: Shuashua
Publisher: Phoenix Juvenile and Children's Publishing, Ltd
Price: ¥20.00
June 2016
ISBN 9787534699085
Paperback 240 pp
Coyright manager: Wu Xiaohong
E-mail: xhw_2005@aliyun.com, wuxh@ppm.cn