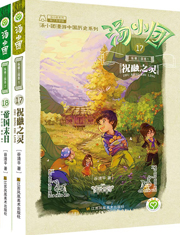 Tang Xiaotuan's Adventure in the Three Kingdoms
Since the Tang Xiaotuan book series was launched two years ago, the stories about the brave young time travelers have become very popular among young readers.
Overview:
Lin Sanzhi (1898–1989) was one of the most important Chinese calligraphers of the 20th century. The book is a detailed record of Lin's life experiences over more than 90 years, charting his studies, travels and compositions. The book is informative and collectible as it provides a comprehensive understanding of Lin's artistic talents and life as well as contemporary Chinese art history.
• China's first comprehensive, detailed and accurate record of the artistic life of Lin Sanzhi, who was honored in the 1980s as a "Contemporary Saint of Cursive Calligraphy".
• Winner of the annual "Good Book in China" in 2016 by China Central Television.
Author: Shao Chuan
Publisher: Phoenix Literature & Art Publishing Ltd
Price: ¥129.00
Sept 2016
ISBN 9787539991849
Hardcover 434 pp
Coyright manager:Wang Yuyao
E-mail: 274187932@qq.com