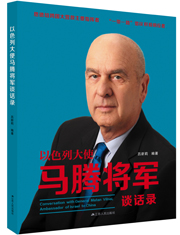 Conversation with General Matan Vilnai, Ambassador of Israel to China
The book is the first autobiography of a high-ranking Israeli official published in China. It describes the legendary military and political experiences of Matan Vilnai, Israel's influential retired Major General and former Ambassador to China.
Overview:
It is the latest novel by Huang Beijia, following the style of her beloved work The Tenderest Eyes. The book tells the story of a group of kids growing up in China in the 1970s. The friends live in a rather poor neighborhood in Suzhong Town and they experience the struggles and joys of life together. After they grow up, they revisit these unforgettable and precious childhood memories. Though they have experienced much hardship and indifference in the process of growing up, these valuable memories give them the purest children's eyes to view the world.
• The most anticipated new book of the renowned children's book writer Huang Beijia.
• Enlisted in the National Publication Project.
Author: Huang Beijia
Publisher: Phoenix Juvenile and Children's Publishing Ltd.
Price: ¥22.00
Aug 2016
ISBN 9787534699399
Hardcover 283 pp
Copyright manager: Wu Xiaohong
E-mail: xhw_2005@aliyun.com; wuxh@ppm.cn