Phoenix Media attends Abu Dhabi book fair
Updated: 2017-05-09

Headed by PPMG's vice-chairman Zhou Bin, the Jiangsu publishing giant took part in the event displaying some 200 high-quality books, picture albums and journals. Crucially, it reached a series of cooperation intentions with several international participants.
Zhou also delivered a speech at a publishing summit that took place during the fair in which he forward suggestions on the status quo and further development of China-UAE publishing cooperation. Zhou also expressed his hope that the fair would serve to contribute to more publishing achievements for the group's cooperation with the UAE publishers.
Saif bin Zayed Al Nahyan, deputy prime minister of UAE, Wu Shangzhi, deputy head of the State Administration of Press, Publication, Radio, Film and Television, and Ni Jian, Chinese ambassador to the UAE, attended the opening ceremony for a series of activities held for the guest country of honor. Well-known Chinese writers including Cao Wenxuan, Liu Zhengyun, and Yu Hua also participated in the event.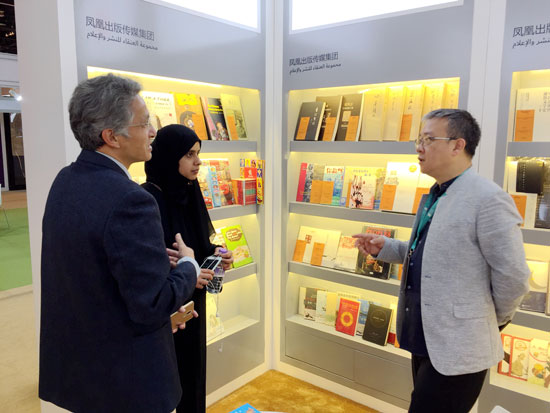 PPMG's vice-chairman Zhou Bin (L) meets overseas publishers at the exhibition booth.
Non-Fiction

Symbols of Jiangsu (Pocket Edition) selects the most representative and symbolic Jiangsu special cultural resources.

Humanities & Social Science; Non-Fiction

Symbols of China examines those things that make China Chinese.