Phoenix Media among China's top 30 cultural companies
Updated: 2017-05-16

Jiangsu-based Phoenix Publishing and Media Group has been named among the Top 30 Cultural Companies in China, according to an announcement given by Guangming Daily and Economic Daily, two leading Chinese newspapers.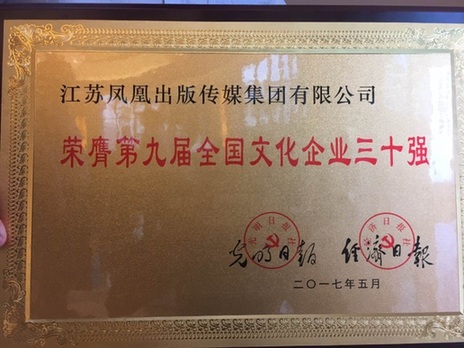 The announcement came at a workshop held by the Publicity Department of the Communist Party of China Central Committee in Beijing on May 11.
It was the ninth consecutive year the group has placed on the prestigious list. Jiangsu Broadcasting Cable Information Network Co also made the list.
A total of 12 publishing and distribution companies made the list, including China Publishing Group Corp.
Compared with previous lists, this year's top 30 enterprises showed more powerful overall strength. In 2016, those included on the list reached a record high with total sales revenues of 351.5 billion yuan ($50.9 billion), net assets of 431.8 billion yuan, and net profit of 38.1 billion yuan - an 8, 29, and 21 percent increase compared to 2015. The data shows that the Chinese culture market has enjoyed sound growth amid the current domestic economic downturn.
Non-Fiction

Symbols of Jiangsu (Pocket Edition) selects the most representative and symbolic Jiangsu special cultural resources.

Humanities & Social Science; Non-Fiction

Symbols of China examines those things that make China Chinese.