Students' art exhibition offers fresh insights into Nantong culture
Updated: 2017-08-09
(chinadaily.com.cn)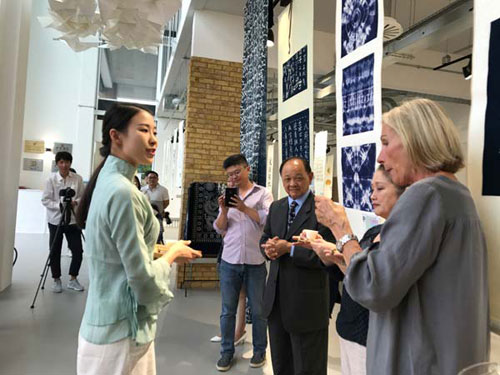 A student from Nanjing Normal University (left) presents tea art to guests in London, UK on July 17, 2017. [Photo/chinadaily.com.cn]
An art exhibition with more than 100 artworks by primary school students from Nantong's Tongzhou district has opened in London to showcase the art and culture of Nantong, Jiangsu province.
The exhibition, held jointly by Tongzhou Education Bureau and Phoenix Publishing and Media Group, will last 10 days at House of Phoenix in London from Monday, and has gathered together a variety of different art pieces from all primary schools in Tongzhou.
From traditional calligraphy to paper cutting, water and ink painting, blue printed homespun works, the exhibition shows a new and fascinating picture of Nantong's rich culture and the life of local children.
Non-Fiction

Symbols of Jiangsu (Pocket Edition) selects the most representative and symbolic Jiangsu special cultural resources.

Humanities & Social Science; Non-Fiction

Symbols of China examines those things that make China Chinese.