2017 Beijing International Book Fair
Updated: 2017-08-28

During the fair, Liu Yunshan, member of the Standing Committee of the Political Bureau of the CPC Central Committee and Secretariat of the CPC Central Committee, paid a visit to PPM's exhibition booths and was briefed on the publisher's highlight titles and its progress in copyright export.
PPM's presence at the five-day event produced many tangible results.
The company organized more than 130 discussion sessions about copyright trade with famous overseas publishers and copyright agencies, which contributed to the signing of 100 copyright export deals with publishers abroad.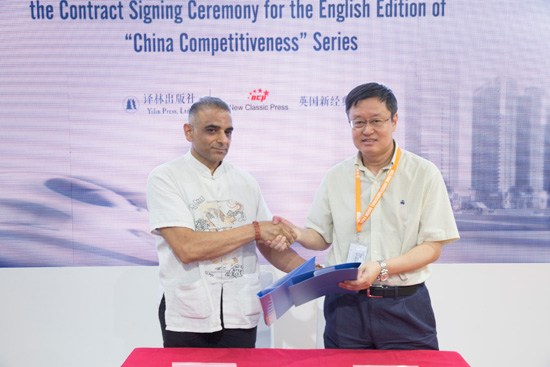 Jiangsu-based publishing giant Phoenix Publishing and Media holds a contract signing ceremony for the copyright export of the English version of the China Competitiveness series with UK's New Classic Press on Aug 24, 2017.
PPM's achievements in promoting globalization were recognized by the fair's organizing committee, with the company receiving the "Excellent Award for Copyright Trade and Export", "Excellent Exhibitor" and "Innovation Award".
Non-Fiction

Symbols of Jiangsu (Pocket Edition) selects the most representative and symbolic Jiangsu special cultural resources.

Humanities & Social Science; Non-Fiction

Symbols of China examines those things that make China Chinese.