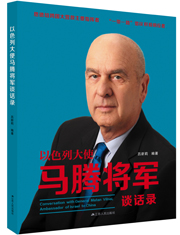 Conversation with General Matan Vilnai, Ambassador of Israel to China
The book is the first autobiography of a high-ranking Israeli official published in China. It describes the legendary military and political experiences of Matan Vilnai, Israel's influential retired Major General and former Ambassador to China.
Overview:
Guixiang Street is a realistic novel that reflects modern society with a touching romance story. The story centers on Lin Youhong, a woman who quits her job as an executive at a foreign invested company to work as a community coordinator on Guixiang Street.
The novel evidences Lin's struggle between personal ambitions and her sense of social responsibility. Her selfless decision catalyzes a pursuit for meaning in life, one which seeps into both the quotidian and unusual aspects of Lin's existence.
• Fan Xiaoqing, winner of the Lu Xun Literature Prize in 2007, chooses to describe the lives of ordinary people using extraordinary language.
Author: Fan Xiaoqing
Publisher: Phoenix Literature & Art Publishing Ltd
Price: ¥36.00
Aug 2016
ISBN 9787539991924
Paperback 430 pp
Coyright manager: Wang Yuyao
E-mail: 274187932@qq.com