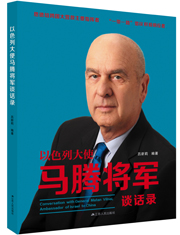 Conversation with General Matan Vilnai, Ambassador of Israel to China
The book is the first autobiography of a high-ranking Israeli official published in China. It describes the legendary military and political experiences of Matan Vilnai, Israel's influential retired Major General and former Ambassador to China.
Overview:
The novel represents a perfect combination of critical realism and idealism. It portrays people's struggle to choose between wealth and morality in this capitalist era of constant change.
It's a classic by Zhou Meisen, a renowned Chinese writer of political novels. The TV drama In the Name of People adapted from his novel of the same title has been dubbed by Chinese media as "the country's most daring TV series about anti-graft efforts."
Author: Zhou Meisen
Publisher: Phoenix Literature & Art Publishing Ltd
Price: ¥42.00
Apr 2017
ISBN 9787559402875
Paperback 342 pp
Coyright manager: Wang Yuyao
E-mail: 274187932@qq.com