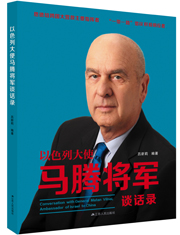 Conversation with General Matan Vilnai, Ambassador of Israel to China
The book is the first autobiography of a high-ranking Israeli official published in China. It describes the legendary military and political experiences of Matan Vilnai, Israel's influential retired Major General and former Ambassador to China.
Overview:
The book was compiled by 30 experts in literature and history as well as painters and calligraphers. They chose 60 classic stories representing the core socialist values from the essence of Chinese culture over the course of 5,000 years, and created more than 300 pictures in comic strip form.
The 12 values, which are written using 24 Chinese characters, are prosperity, democracy, civility, harmony, freedom, equality, justice, the rule of law, patriotism, dedication, integrity and friendship.
The book uses words and pictures to interpret the values from three perspectives – the nation, society and people. It helps readers trace the origins of the values in traditional Chinese culture, which is a good way to make the past serve the present.
• Based on 60 classic stories, the book interprets the 12 core socialist values with 300 exquisite pictures in the form of a comic strip.
Publisher: Jiangsu People's Publishing Ltd
Price: ¥78.00
May 2017
ISBN 9787214200778
Paperback 385 pp
Coyright manager: Queenie Liu
E-mail: swallowliu_nnu@163.com