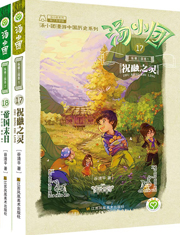 Tang Xiaotuan's Adventure in the Three Kingdoms
Since the Tang Xiaotuan book series was launched two years ago, the stories about the brave young time travelers have become very popular among young readers.
Overview:
The book explains in simple language what calligraphy is, how to be a calligrapher and how to create works of calligraphy. The explanations are divided into eight aspects including the historical evolution of calligraphy, the imagery of calligraphy, key concepts of calligraphers, practical calligraphy advice, artistic calligraphy, and the theory of calligraphy's evolution.
Author: Zhuang Tianming
Publisher: Phoenix Education Publishing Ltd
Price: ¥58.00
Jun 2014
ISBN 9787549927920
Paperback 306 pp
Coyright manager: Zhao Yuhan
E-mail: zhaoyuhan@ppm.cn