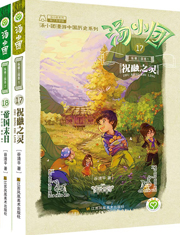 Tang Xiaotuan's Adventure in the Three Kingdoms
Since the Tang Xiaotuan book series was launched two years ago, the stories about the brave young time travelers have become very popular among young readers.
Overview:
This book won the Beauty of Books and Illustration Gold Medal awards, and has been presented as a national gift to the 28th world cultural heritage conference.
About the Author:
Gao Made (1917-2007) is famous for drawing opera characters. He combines an exaggerate cartoon art style and techniques of traditional Chinese painting as well as presentation of Peking Opera to form a unique style. Figures are vivid and interesting with a unity of form and spirit, which appeals to both refined and popular tastes.
Author: Gao Made
Publisher: Phoenix Fine Arts Publishing Ltd
Price: ¥260.00
Mar 2016
ISBN 9787534475139
Hardcover 384 pp
Coyright manager: Susan Shi
E-mail: susanshe@vip.sina.com