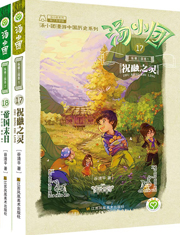 Tang Xiaotuan's Adventure in the Three Kingdoms
Since the Tang Xiaotuan book series was launched two years ago, the stories about the brave young time travelers have become very popular among young readers.
Overview:
Yuhua stone is a kind of special mineral rock originating from the Yangtze River area. The book discusses the aesthetics of Yuhua stones from various perspectives including geological origins, categorization, and a history of collection. It is divided into six chapters covering a range of topics including "aesthetics of Yuhua stones", "the collection and appreciation of stones", and "anecdotes associated with Yuhua stones". The book is forwarded by Wang Zhaowen, a leading authority in aesthetics.
Author: Liu Shui
Publisher: Phoenix Science Press Ltd
Price: ¥68.00
May 2017
ISBN 9787553780955
Paperback 200 pp
Coyright manager: Deng Haiyun
E-mail: denghy@ppm.cn