Discussions bring Chinese literature to world stage
Updated: 2018-06-04
(en.ppm.cn)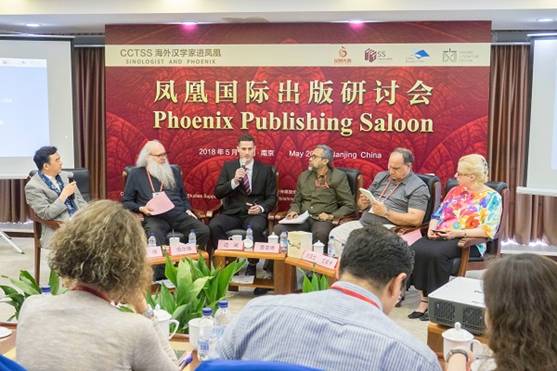 Sinologists discuss the promotion of Chinese literature overseas on May 28.
Internationally renowned sinologists took part in a seminar discussing the publishing, translation and promotion of Chinese book overseas in Nanjing, Jiangsu province, on May 28.
The "Phoenix Publishing Saloon", targeting international publishing and translation experts, was received well by the audience and was organized by China's publishing giant the Phoenix Publishing and Media Group (PPMG).
World-famous Indian sinologist Priyadarsi Mukherji and Polish poet Dariusz Tomasz Lebioda attended the discussions, sharing in-depth insights into topics such as the proper translation of Chinese books and the efficient ways to promote them overseas.
Well acquainted with Chinese culture, Mukherji spoke fluent Chinese but also has brought in many Chinese books to India. Aside from his acclaimed translations which included Lu Xun's Poem Collection, Contemporary Chinese Poetry Collection, and Collection of Ai Qing's Poems and Fables, the mastermind said he had special affection for Chinese jokes, whereas the cultural gap lying before him – requiring his detailed explanations when sharing Chinese jokes with his Indian friends – has inspired him to try his best to narrow the gap.
"It takes a shared cultural background or living environment to understand jokes from a foreign country," Mukherji said.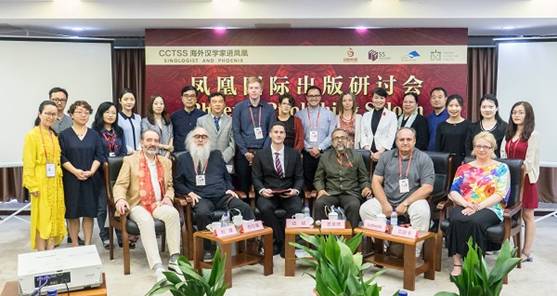 International sinologists attending the discussions on Chinese literature overseas pose for a group photo on May 28.
Lebioda's preference for poetry, especially Chinese poems, has inspired him to keep exploring the Chinese literary world, despite not knowing any Chinese.
"Chinese poems are so difficult that foreign readers need lots of extra explanations and notes to catch the connotations," Lebioda said.
He said he was lucky to find the published English translations of Chinese poetry in Poland to be faithful, expressive and elegant, which helped him grasp the substance behind the words and translate as many Chinese poems from English to Polish as possible.
Yu-Barta Erika, a Hungarian sinologist and translator, said she was inspired from Lebioda and would like to promote Chinese culture to her compatriots.
She would like to start doing this by firstly holding poetry shows and publishing poetry collections, and then move forward to holding book exhibitions.
"I will do it step by step," Erika said.
The Finnish sinologist Pertti, who has perhaps grown himself a full, white, flowing beard to present the aura of a wise scholar, said he was an enthusiast of Tang Dynasty (618-907) poems, and actually a big fan of Wang Wei, a renowned Chinese poet of that era, whom he described as "a prodigy and a good representative of an erudite scholar."
Pertti's dedication to Chinese culture is not only reflected from him being the only Finnish scholar to translate modern and contemporary poetry from China, but also in the fact that he published a book to introduce Chinese characters.

The international sinologists come from 13 countries including Finland, India, the UK and Hungary.
Non-Fiction

Symbols of Jiangsu (Pocket Edition) selects the most representative and symbolic Jiangsu special cultural resources.

Humanities & Social Science; Non-Fiction

Symbols of China examines those things that make China Chinese.