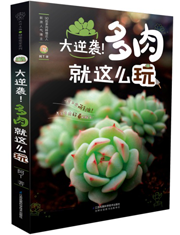 It's Not Difficult to Grow Succulents
This is a guide book on how to grow succulents.
Overview:
This is not only a comic book about succulents, but also a guide book on how to grow them. Based on the author's personal experiences, the book offers secrets to growing healthy succulents using simple and lovely cartoons.
Readers can refer to the book for tips on how to care for various varieties in each season, such as pest control, disease prevention, seedling selection, choosing a proper pot and soil, watering and sunlight.
Author: A T
Aug. 2017
144 pages
ISBN:978-7-5537-8427-4
Price: 34.80 Yuan