PPMG active in compilation of Grand Canal chronicles
Updated: 2018-07-11
(en.ppm.cn)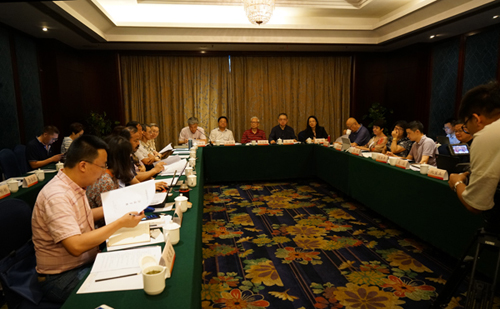 Experts discuss the project at the compilation workshop for Chronicles of the Grand Canal of China in Hangzhou, Zhejiang province, June 29 to July 3.
The Grand Canal, spanning over 2,000 kilometers from China's capital Beijing to the eastern economic hub of Hangzhou in Zhejiang province, has always been a cultural treasure to the Chinese people.
The idea of compiling chronicles of the ancient engineering wonder was initiated in 2012, with Phoenix Publishing and Media Group (PPMG), a Jiangsu-based publishing giant, shouldering the composing work.
Zhou Bin, vice-chairman of PPMG, expressed his determination to complete the project at a compilation workshop in Hangzhou, the southern end of the Grand Canal from June 29 to July 3. Zhou said that he and the group will step up their efforts, get the chronicles published as soon as possible, and present the related cultural information in a variety of ways.
Experts in culture, history, art, economics and architecture spoke about some of the difficulties of their work, such as a shortage of time, the amount of work required, the lack of academic foundation, the scattered whereabouts of the documents, and the incompleteness of the research system.
A continuation of PPMG's last masterwork, Chronicles of the Great Wall of China, the new collection reflects the publishing giant's courage and confidence to record the two most iconic engineering wonders of China.
Though the Great Wall's function in military defense has faded over time, the Grand Canal remains a crucial conduit of cultural communication, with its academic and social values increasing with time.
Non-Fiction

Symbols of Jiangsu (Pocket Edition) selects the most representative and symbolic Jiangsu special cultural resources.

Humanities & Social Science; Non-Fiction

Symbols of China examines those things that make China Chinese.