Pace Confucius Institute active in Chinese New Year celebrations
Updated: 2019-02-13
(en.ppm.cn)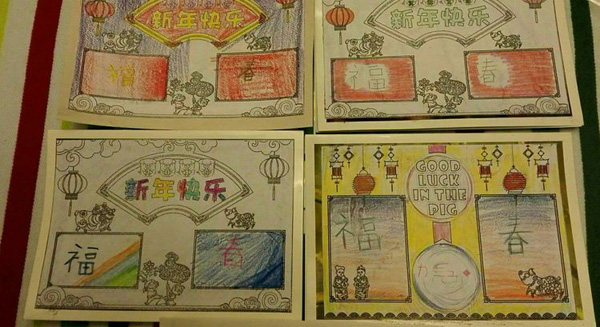 Greeting cards, made by students from the New Milford High School with their parents Jan 17, display distinctive Chinese features.
The Confucius Institute at Pace University (Pace CI) in the United States rolled out five serial celebrations for the Chinese Spring Festival, or the Lunar New Year of the Pig, which started Feb 5.
The first session was held Jan 17 on the campus of New Milford High School, where Chinese language teachers and volunteers joined hands local students to watch videos and hold quizzes on the history of the festival and different regional folklore activities. The students made greeting cards with their parents, which had distinctive Chinese features such as being adorned with the auspicious characters of fu and chun, meaning good luck and spring.
At noon Jan 31, the second session was unveiled at New Milford High School, with volunteer Gao Hong narrating the myths of Monster Nian, against whom the Chinese people battled and have since celebrated their victory with the Spring Festival. The volunteer also shared with the students her collections of various types of hongbao, which are red envelopes filled with money which Chinese people give to children as a lunar New Year gift, and explained the meaning behind each image.
Non-Fiction

Symbols of Jiangsu (Pocket Edition) selects the most representative and symbolic Jiangsu special cultural resources.

Humanities & Social Science; Non-Fiction

Symbols of China examines those things that make China Chinese.