China, Cambodia share literary fruits
Updated: 2019-02-26
(en.ppm.cn)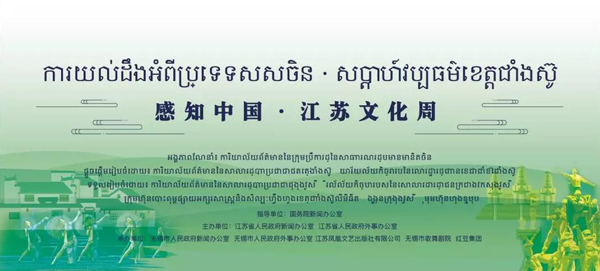 The Experience China-Jiangsu Culture Week is held in Cambodia and Thailand from Feb 17 to 24. [Photo from WeChat account xhby_gjcb]
Aside from a variety of activities enriching of the Experience China-Jiangsu Culture Week in Cambodia and Thailand, a book donation event sharing classic works from China and Cambodia was held at the week's opening ceremony in Phnom Penh on Feb 18.
Kulap Pailin ("The Rose of Pailin"), a literary work by renowned Cambodian author Nhok Them, and Multimeter, a collection of representative stories written by Chinese novelist Su Tong, were presented by officials from the two countries to each other.
Kulap Pailin plays a pivotal role in Khmer literature, while the popularly acclaimed Multimeter, including Su's best story, Wives and Concubines, has been adapted into the film Raise the Red Lantern by famous director Zhang Yimou.
Donating books was a practical move since publishing houses from the two sides, Phoenix Publishing and Media Inc (PPM) and Khmer Press House, reached a first-phase agreement in April 2018 to share these good books among the two peoples.
PPM is also gearing up to expand mutual cooperation in more fields, not exclusive to literary works, but also across children's books, humanities and social sciences.
The Cambodian publisher showed great interest in Bronze and Sunflower, a notable work of the children's author Cao Wenxuan, which tells the story of a boy from the countryside and a city girl becoming inseparable friends and growing up together. It has been brought out of China to 14 countries and is the winner of many domestic and international awards.
PPM is also planning to bring in a Cambodian children's book to Chinese readers. The book will be included in the two sides' second-phase cooperation when translation is finished this year.
The Experience China-Jiangsu Culture Week, held in Cambodia and Thailand from Feb 17 to 24, is guided by the State Council Information Office of China and sponsored by the Jiangsu Provincial Information Office. The eight-day event aims to further China's ties and friendship with the Southeast Asian countries.
Non-Fiction

Symbols of Jiangsu (Pocket Edition) selects the most representative and symbolic Jiangsu special cultural resources.

Humanities & Social Science; Non-Fiction

Symbols of China examines those things that make China Chinese.