Our role in promoting Chinese culture to the world
Updated: 2019-05-07
(en.ppm.cn)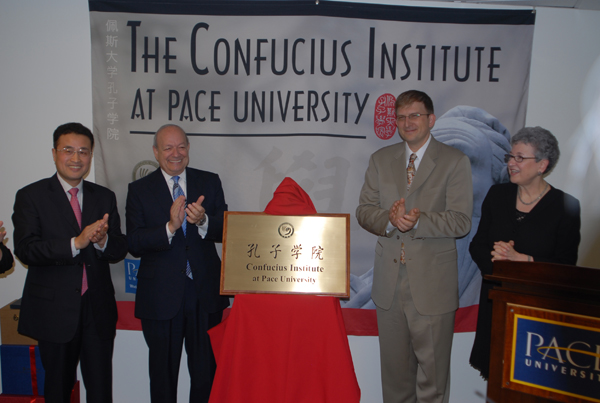 The Confucius Institute at Pace University in the United States opened in May 2009.
Phoenix Publishing and Media Group (PPMG) upholds a strong belief that effective communication between different cultures is playing a key role in modern world development. An enterprise with a cultural mission in mind, PPMG has been striving to explore channels for cultural exchanges. We were the first and only Chinese cultural enterprise to partner with foreign universities and institutions for the construction and running of Confucius Institutes (CIs) overseas.
The CI at Pace University in the United States, through joint efforts from PPMG, Confucius Institute Headquarters (Hanban) and the US school, was established in 2009 and started language teaching the following year. It was the first platform invested in by PPMG in the US for Chinese cultural promotion. The idea of building a second CI, with PPMG eagerly involved in its preparation, was conceived in Chile in March 2015, with the publishing giant signing an agreement with Nanjing University and the Catholic University of Chile.
The two CIs have seen PPMG's global dedication crossing from North America to South America and spanning from English to Spanish. It is a brand new challenge, but the group is taking it seriously and strictly following the requirements mentioned in the Confucius Institute Development Plan (2012-20). As an enterprise, PPMG will observe the laws and regulations of the countries where CIs are located, respect folk customs and traditions, and take an open and welcoming attitude towards common improvement.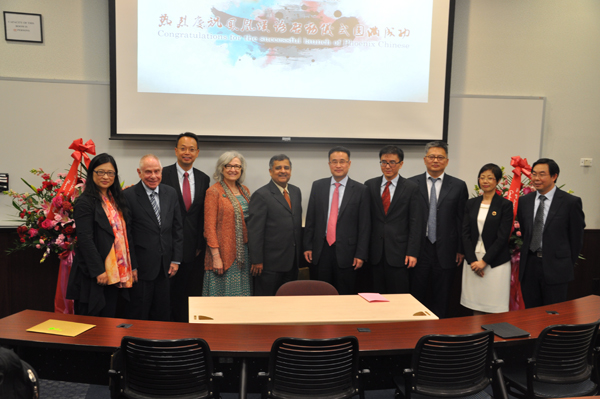 Launch ceremony of Pace CI and PPMG Phoenix Chinese APP
Phoenix Chinese, a Chinese learning application co-developed by PPMG, Pace and Nanjing Normal University, made its debut on the iOS App Store in 2015. A complete set of paper textbooks, complementary to the digital platform, is to be launched and will cover multiple languages. A brick-and-mortar experience center for the app was erected along the River Thames in London and opened to the public in April 2016 during that year's London Book Fair. The Phoenix Libraries made their homes at the Catholic University of Chile and Pace University in January and June of 2018. That year also saw PPMG winning authorization from Hanban to set up a Confucius class in the New Milford School District in New Jersey, U.S.
2019 marks 10 years of smooth running of CIs at Pace University and the Catholic University of Chile. Ten years of a journey we are grateful to be on. PPMG is always willing to cooperate with institutions from home and abroad and promote exchanges between Chinese and foreign cultures.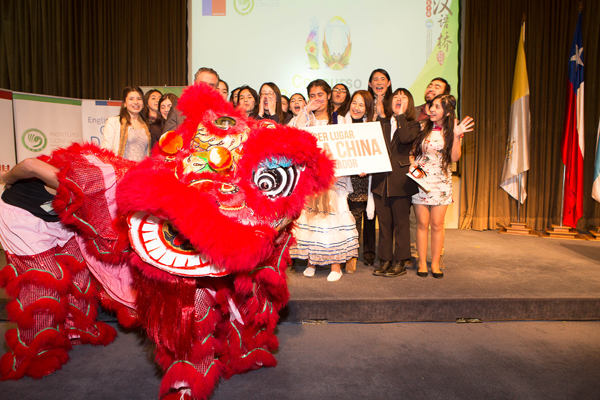 Students in Chile celebrated at the Chinese Bridge Chinese Proficiency Competition for Foreigners.
Non-Fiction

Symbols of Jiangsu (Pocket Edition) selects the most representative and symbolic Jiangsu special cultural resources.

Humanities & Social Science; Non-Fiction

Symbols of China examines those things that make China Chinese.