PPMG subsidiaries help to fight COVID-19 worldwide
Updated: 2020-03-16
(en.ppm.cn)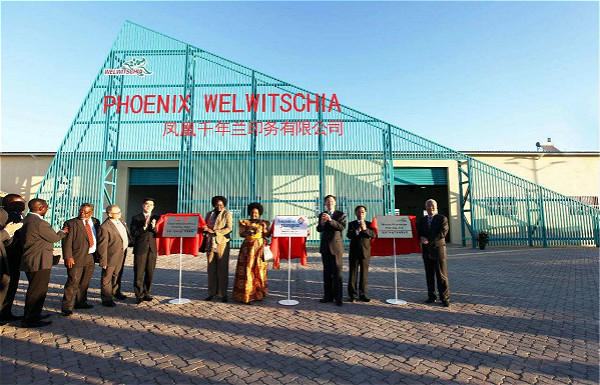 The opening ceremony for Phoenix Welwitschia Printing Ltd Namibia, in southwestern Africa
Phoenix Welwitschia Printing Ltd is located in the southwestern African country of Namibia. Jointly run by the Phoenix Publishing & Media Group and China Jiangsu International Group, the company boasts a collection of internationally advanced equipment, including Heidelberg industrial printers, the CCPP China cloud publishing and printing platform. It has grown into a leading printing company in Namibia for its technology, quality, services and professionalism.
Namibia so far has reported no COVID-19 cases and the country has imposed restrictions on visa applications and started to register all in-bound tourists at airport customs. After a request from China's embassy in Namibia, Phoenix Welwitschia started reporting its employees' entry-and-exit status and arranged 14-day quarantines for employees returned from China.
The company also gave out detailed explanations to both Chinese employees and locals on the latest epidemic prevention progress around the globe. So far, the COVID-19 outbreak poses no threat to Phoenix Welwitschia and all its operations are being carried out in an orderly manner.
Non-Fiction

Symbols of Jiangsu (Pocket Edition) selects the most representative and symbolic Jiangsu special cultural resources.

Humanities & Social Science; Non-Fiction

Symbols of China examines those things that make China Chinese.