Phoenix, Nanjing institute set up science communication center
Updated: 2020-08-03
(en.ppm.cn)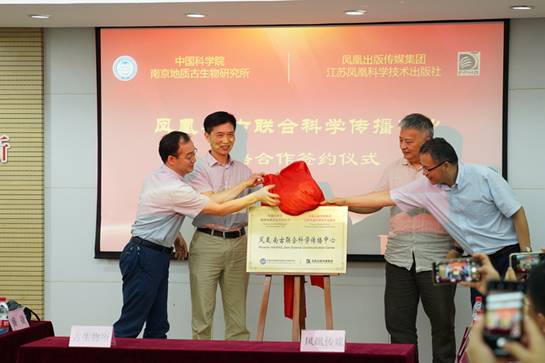 A science communication center is established on July 15 in Nanjing, capital of East China's Jiangsu province.
A science communication center was established on July 15 in Nanjing, capital of East China's Jiangsu province.
The communication center was jointly established by Phoenix Science Press Ltd and the Nanjing Institute of Geology and Palaeontology of the Chinese Academy of Sciences (NIGPAS).
NIGPAS is one of the world's three major paleontological research institutions. It employs high-level Chinese experts in geology and paleontology and houses a large amount of high-quality academic and popular paleontology resources.
Zhan Renbin, director of NIGPAS, expressed confidence in the development of the center during the inauguration ceremony. He said that science communication is important to NIGPAS, and the organization will spare no effort in pursuing it.
She Jiangtao, president of Phoenix Publishing and Media Inc (PPM), noted that NIGPAS is a world-class paleontology and stratigraphy institute, while Phoenix has an outstanding editing, publishing, and distribution team and camera crew.
Over the past several decades, NIGPAS has published more than 20 science books and popular science materials via Phoenix Science Press, winning many State and provincial-level awards, Mr She added.
He also said that PPM was highly invested in the establishment of the center and expressed belief that both sides would do a great job publishing paleontological research results and showcasing China's research and cultural strength.
Sheng Jie, secretary of NIGPAS' science communication center, introduced the first joint publication project between NIGPAS and Phoenix Science Press.
The project includes popular science videos and related books for primary and secondary school students, which will be managed by Rong Jiayu, an academician from NIGPAS, and participated in by more than 20 paleontologists from NIGPAS.
They will teach children about the evolution of life on Earth and the latest paleontological developments.
The joint science communication center will publish more high-end international academic titles and popular science products in the future.
Non-Fiction

Symbols of Jiangsu (Pocket Edition) selects the most representative and symbolic Jiangsu special cultural resources.

Humanities & Social Science; Non-Fiction

Symbols of China examines those things that make China Chinese.