Forum exploring original literature held in Nanjing
Updated: 2020-10-26
(en.ppm.cn)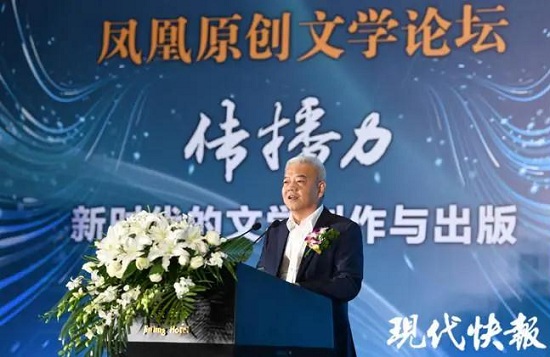 Liang Yong, chairman of Phoenix Publishing and Media Group (PPMG), delivers a speech at the Phoneix Original Literature Forum which was held in Nanjing, capital of Jiangsu, on Oct 23.
The Phoenix Literature Creation Forum, part of the 2020 Phoenix Authors Annual Conference, was held in Nanjing, capital of Jiangsu, on Oct 23.
Renowned writers, critics, and editors were invited to discuss the strengths of original literature, the meaning of literature, the mission of publication and the value of communication.
Xu Ning, Deputy Director of the Publicity Department of CPC Jiangsu Provincial Committee, delivered her opening remark. She pointed out that, since ancient times, Jiangsu province has always attached great importance to the creation and dissemination of literature and culture. It has a glorious cultural history and a clear literature background, as well as great writers and works. In the era of new media, new changes have taken place in literature, publishing, and communication. It is not only the dimension of creation, but also the accuracy of communication.
Liang Yong, chairman of Phoenix Publishing and Media Group (PPMG), delivered a speech at the forum. He said that PPMG will implement a large array of measures to encourage literary and artistic creation, attract more writers to cooperate with PPMG, and publish more original literature outside of Jiangsu and China.
Qiu Huadong, secretary of the Secretariat of the China Writers Association, reviewed the history of Chinese literature, saying that Chinese literature is an expression of the individual experiences of Chinese people, and that it has affected and been affected by events throughout history both within China and across the world.
Ai Wei, chairman of the Zhejiang Writers Association, believes that traditional Chinese novels are powerful, but short of discussing the mental world of Chinese people. He said that current writers are struggling to truly move the Chinese people emotionally, which he views as one of literature's greatest values.
Wang Yao, a professor at Soochow University, said that the interaction between literature and publication is crucial to the future development of Chinese literature.
He added that what is best for literature is also best for publication.
Zhang Xinying, a professor at Fudan University, stressed the important of language, as the development of language determines the development of literature, and modern Chinese is still evolving.
Speaking about how book reviews promote original literature, Liang Hongying, renowned critic and editor-in-chief of the Journal of Literature and Art, noted that book review columns should always remain professional and strive to play a role in creating the cultural and literary atmosphere.
Non-Fiction

Symbols of Jiangsu (Pocket Edition) selects the most representative and symbolic Jiangsu special cultural resources.

Humanities & Social Science; Non-Fiction

Symbols of China examines those things that make China Chinese.