Liang Yong: Seeking to preserve, popularize, and improve the quality of integrated publishing
Updated: 2020-10-26
(en.ppm.cn)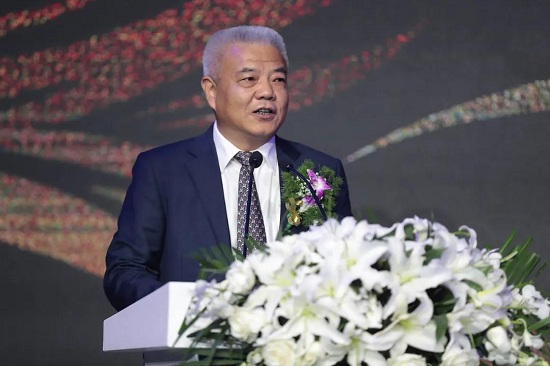 Liang Yong, chairman of Phoenix Publishing and Media Group (PPMG), gave an exclusive interview to daily paper Modern Express during the Phoenix Authors Annual Conference held in Nanjing, capital of Jiangsu province, on Oct 23.
Modern Express: The Phoenix Literature Creation Forum held during the annual conference was attended by many authors and critics in China. How did PPMG support literature creation and initiative?
Liang: To host the annual conference is, in a sense, to encourage the creation of high-quality original literature. Authors are the most valuable intangible assets that publishing agencies have. We hope the annual conference to be an opportunity to enhance communication between PPMG and authors, and also demonstrate PPMG's sincerity and strength.
In addition to the annual conference, the Phoenix Literature Prize was established with a maximum reward of 500,000 yuan ($75,000); events including the Cao Wenxuan Children's Literature Prize, Oriental Kids Picture Book Award, Phoenix Authors Annual Conference, and Phoenix Reading Club have been further improved; editors have been invited to participate in topic design, marketing, and promotion by using PPMG's abundant resources to better serve our authors.
Modern Express: Please talk about the achievements PPMG has made in terms of publications over the last two years. And what is your publishing plan for the following 14th "Five Year Plan" (2021-2025)?
Liang: PPMG is particularly strong when it comes to the publication of titles related to the humanities and social sciences, literature and art, ancient documents, science popularization, and education.
PPMG-published books have received many State-level awards. For example, Because of Father won a national award in 2019; History of England won the Chinese Government Award for Printing; six books published by PPMG have been listed as China Books of the Year by the Chinese Book Review Society and State-run broadcaster CCTV. They are My Country and Its Names, Flood, About Kunqu Opera, Autobiography of Fan Jinshi, Mo Lifeng Interprets Poems from the Tang Dynasty, and Chinese Plants. The novels, Messenger and Three Families in Dunhuang, were nominated for the Mao Dun Literature Awards.
During the 14th Five-Year Plan (2021-2025), PPMG will focus on original publications of literature, academic works, popular science works, and educational books.
In addition, more than 60 titles about canal culture are also expected to be published over the following five years.
Modern Express: PPMG ranked 11th among the Global 50 The World Rankings of the Publishing Industry 2020. Please talk about PPMG's international publishing business.
Liang: PPMG has ramped up efforts to publish titles overseas and expand overseas investment. Since 2016, PPMG has exported copyrights to 62 countries.
For example, Bronze and Sunflower by Cao Wenxuan has been reprinted 300 times and several million copies of the book in different languages have been sold in 19 countries, including South Korea, France, Germany, Italy and India. The book has also won the PEN Award in the United Kingdom (UK) and Freeman Book Award in the United States (US).
Back to Marx has been published in English, Korean, Russian, and Arabic, while China Today has been exported to the US, Spain, France, Russia, Kyrgyzstan, and Iran.
Modern Express: How has PPMG managed to involve itself in so many different publishing fields and achieve remarkable results in these fields?
Liang: It can be attributed to the following efforts. First, PPMG attaches great importance to guidance and proritizes social benefits. Second, the publishing house pays close attention to professional publishing in certain categories. Books on the humanities and social science, science and technology, literature and art, and children's books published by PPMG's subsidiaries are very professional and these subsidiaries must be certain of their orientation and publishing categories in a bid to seek professional development and grow into comprehensive content suppliers. Third, our editorial board guarantees the quality of major projects by increasing the demands on books to be published and putting quality before quantity. Fourth, PPMG supports the initiative of high-quality titles.
Modern Express: As we all know, an increasing number of people are reading via digital media. Since PPMG has so many high-quality contents, how to combine them with digital reading?
Liang: That is certainly one of the biggest trends in the modern publishing industry – integrated development, transformation and upgrading, all of which are of great importance to the publishing industry to meet the challenges of the digital era.
Relying on competitive authors and quality content, PPMG will carry out innovation in the way of content development and distribution to provide broader value-added space for contents published by the company.
We have formulated a plan for the construction of an integrated publishing quality production system and decided to launch four platforms including a mobile application.
In addition, PPMG will also support these projects with special funds to push the integrated publishing to a new level over the next three years.
Modern Express: Speaking of digital reading, it must involve platform construction. What measures has PPMG taken?
Liang: We started developing a mobile application this year, which offers e-books, audio books, and knowledge services. It has become a way for PPMG to promote and market high-quality books.
We also encourage our publishing houses to establish professional media platforms. For example, the official WeChat account of Phoenix Vocational Education Books Ltd "FHZYJY" focuses on the demands of vocational education students – upgrading from junior college students to university students, and has led to roughly 800,000 users to date.
Next, we will construct a group of media platforms centering on traditional Chinese medicine, health services, children's literature, and foreign literature.
Modern Express: As a competitive publishing group with abundant publishing resources and a large market share, PPMG excels when it comes to expanding its industrial chain. However, I believe there are also challenges. How does PPMG meet these challenges?
Liang: The challenges are enormous, but if we can positively deal with these challenges, then the greater the challenge is, the greater the opportunity is.
The challenges PPMG has faced include the expansion of industry scale, the inclusion of internet pop culture, and the innovation of its operating mechanism. PPMG has taken measures to cope with these challenges, including the introduction of technical personnel and the establishment of technical departments. We believe that so long as we make up for our shortcomings, challenges will become opportunities.
Non-Fiction

Symbols of Jiangsu (Pocket Edition) selects the most representative and symbolic Jiangsu special cultural resources.

Humanities & Social Science; Non-Fiction

Symbols of China examines those things that make China Chinese.