PPMG's annual conference for authors draws nearly 100 writers
Updated: 2021-10-25
(en.ppm.cn)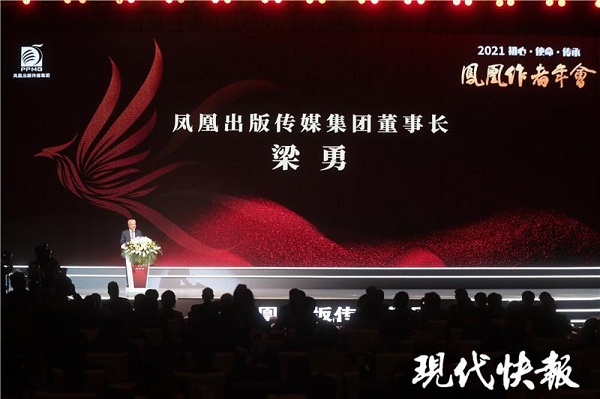 Liang Yong, chairman of PPMG, delivers a speech at the annual conference.
Chinese publishing giant Phoenix Publishing and Media Group held its annual conference for its authors in Nanjing, capital city of Jiangsu province, on Oct 22.
The annual conference opened with a promotion video that showcased PPMG's 68 years of development.
The awarding of the "Golden Phoenix" medals to outstanding content providers of PPMG is the highlight of the annual conference and the medals were given this year to five Chinese writers, Zhang Xianwe, Kuang Tingyun, Gu Qingping, Han Dong, as well as Qiu Chengtong.
Eleven titles published by PPMG's subsidiaries were selected as PPMG's Books of the Year 2021, including China from Outer Space by Phoenix Science Press Ltd, To the North by Jiangsu People's Publishing Ltd, as well as From the Beginning of Life by Phoenix Literature & Art Publishing Ltd.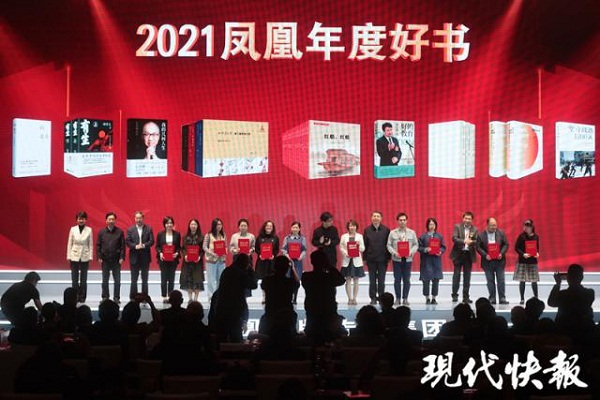 PPMG's Books of the Year 2021 are unveiled at the annual conference.
PPMG also established the Phoenix Book Review Awards at the event. Sponsored by PPMG and organized by Modern Express and Journal of Literature and Art, the awards event will commence in 2022 and will be held annually.
Phoenix Media also signed a cooperation agreement with Beijing Normal University, which houses more than 10 renowned writers, including Nobel Prize winner Mo Yan, Jia Pingwa, Yu Hua, as well as Yan Geling.
As part of PPMG's annual conference for authors, a reading event and exhibitions, including an exhibition about PPMG's publications, were also organized.
Non-Fiction

Symbols of Jiangsu (Pocket Edition) selects the most representative and symbolic Jiangsu special cultural resources.

Humanities & Social Science; Non-Fiction

Symbols of China examines those things that make China Chinese.