Jiangsu Xinhua Distribution Group rated 'outstanding' among suppliers for libraries
Updated: 2022-02-02
(en.ppm.cn)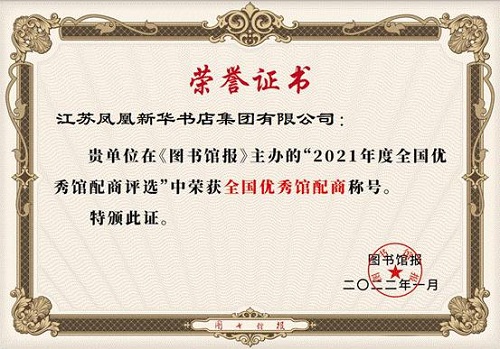 A certificate issued by China Library Weekly to Jiangsu Xinhua Distribution Group.
The Jiangsu Xinhua Distribution Group, a subsidiary of Phoenix Publishing and Media Inc, has been rated "outstanding" by China Library Weekly for its performance in 2021, according to the latest selection of outstanding book suppliers for libraries.
It is the sixth year in a row the group has received such an honor, indicating its high-quality customer service and strong competitiveness.
China Library Weekly is the only paper on the library industry in China. With approval from the National Press and Publication Administration, the newspaper has earned a strong reputation in China's library community over six years of development.
Non-Fiction

Symbols of Jiangsu (Pocket Edition) selects the most representative and symbolic Jiangsu special cultural resources.

Humanities & Social Science; Non-Fiction

Symbols of China examines those things that make China Chinese.