Phoenix Media offers e-resources, customized services amid COVID-19 outbreak
Updated: 2022-04-20
(en.ppm.cn)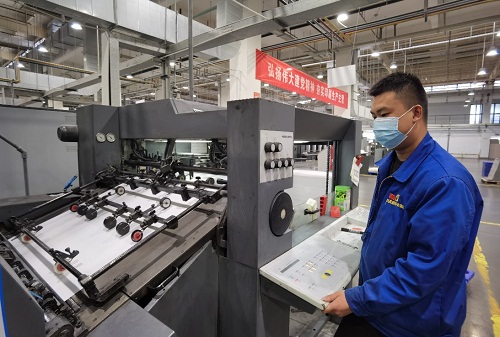 An employee of Phoenix Media monitors the printing of teaching materials amid the latest COVID-19 outbreak in China.
Online teaching has become a normal practice amid the most recent COVID-19 outbreak in China, and Phoenix Media is offering electronic resources to teachers and students free of charge.
Phoenix Media Publishing Ltd & Phoenix Digital Media Ltd has provided online reading and downloads for more than 120 teaching materials to over 3 million teachers and students in the cities of Suzhou, Lianyungang, Changzhou, and Nanjing in Jiangsu province.
Yilin Press has also offered electronic reading resources to students and teachers around the country.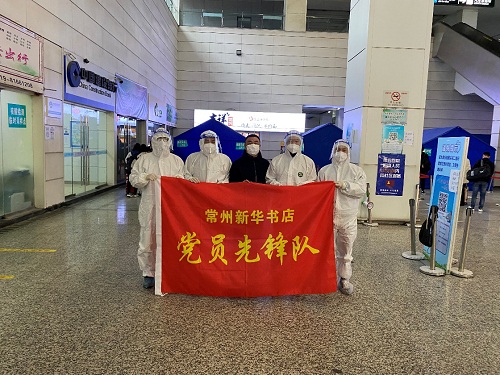 Volunteers from Xinhua Bookstore in Changzhou pose for a group photo at their service area.
Phoenix Science Press Ltd cooperated with the Darwin Lecture launched by the Nanjing Museum of Paleontology to offer online lectures on cherry blossoms, as spring is the best season to admire cherry blossoms.
In addition, Phoenix Media has offered customized services to readers. The Xinhua Bookstore in Lianyungang cooperated with the city's Haizhou district government to donate 1,000 to children in quarantine, while the Xinhua Bookstore in Suzhou has donated 3,000 books to local residential communities.
Modern Express, a newspaper owned by PPMG, has also livestreamed blooming flowers and operas for people in quarantine and updated them with COVID-19 related information.
Non-Fiction

Symbols of Jiangsu (Pocket Edition) selects the most representative and symbolic Jiangsu special cultural resources.

Humanities & Social Science; Non-Fiction

Symbols of China examines those things that make China Chinese.