Phoenix Group considering Hungarian publishing market
Updated: 2017-05-12

A delegation headed by Phoenix Publishing and Media Group (PPMG) chairman Zhang Jiankang visited Hungary from April 24 to 30 to investigate the country's publishing market.
The delegation visited Hungary's largest publishing house Kossuth Publishing and met with the editor-in-chief András Sándor Kocsis.
Zhang noted that both China and Hungary boast long and proud histories and he hoped Phoenix Media and Kossuth can join hands to promote bilateral cultural exchange and mutual understanding. András offered some words of praise for the great influence of Chinese culture, literature, philosophy, and traditional medicine in Hungary most of which has come about through the country's writings.
She Jiangtao, vice-president at Phoenix Media, briefed the Hungarian publisher on the group's business interests, especially its achievements in original Chinese literature publishing. It reached a preliminary cooperation agreement in copyright export with Kossuth.
The delegation also visited Hungary's well-known literature publishing house Magvetőkiadó, the publisher of Sandor Marai's masterpieces, one of Hungary great writers. PPMG's Yilin Press has imported the Chinese copyright of Marai's works and published the Chinese versions of his novels. Both sides agreed to further their cooperation in literature publishing.
At Eötvös Loránd University, a prestigious Hungarian higher education institution with a history of more than 300 years, the delegation had a meeting with Borhy László, dean of the university's faculty of humanities, and Ye Qiuyue, vice-dean of its "Belt and Road" Research Center. The delegation reached a preliminary cooperation agreement with the center and invited the center to recommend Hungarian sinologists for its publishing projects.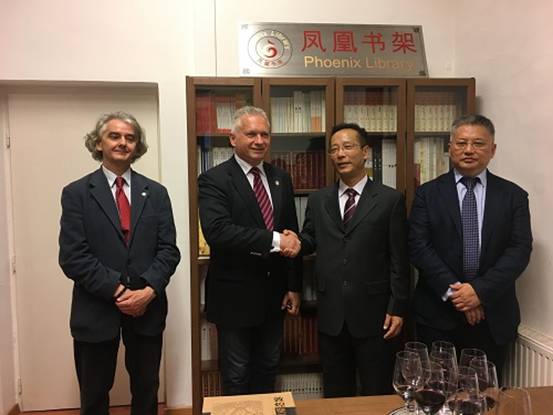 PPMG chairman Zhang Jiankang (R2) meets Borhy László (L2), dean of Eötvös Loránd University's faculty of humanities. The Jiangsu publishing company unveils it Phoenix Library at the Hungarian university.
The delegation also visited the Books & Translations Office at Petőfi Literay Museum, Hungary's largest governmental translation institute, which helped Yilin Press with the translation of Marai's novel A Gyertyák csonkig égnek (English title as Embers).
The group gave the museum the Chinese versions of Hungarian works published by PPMG as gifts, including Marai's novels, Imre Kertész's Fateless and Bogyay Katalin's The Art of Cultural Diplomacy: Panorama of the Presidency. Furthermore, both sides also discussed the funding scheme for the Chinese-Hungarian translation projects.
Non-Fiction

Symbols of Jiangsu (Pocket Edition) selects the most representative and symbolic Jiangsu special cultural resources.

Humanities & Social Science; Non-Fiction

Symbols of China examines those things that make China Chinese.